For the first time in U.S. history, the Surgeon General has sent letters to each and every physician warning them about the Opioid Epidemic.
Dr. Vivek Murthy is not only asking for changes in prescription practices, but also "asking clinicians to help us change how our country thinks about addiction."
For a more in-depth analysis of the role physicians play in this health crisis, please read my blog post, "Heroin Epidemic Reason #1: Blame the Doctors".
As evidenced by the Surgeon General's warning, we must all take steps to change how the country thinks about the disease of addiction.
To that end, I am donating all my author proceeds from my novel, Addiction on Trial, to addiction treatment centers, homeless shelters and academic endeavors that support the destigmatizing of addiction.
I hope you will consider buying a copy for yourself or to give it as a gift to anyone interested in changing hearts and minds about the disease of addiction.
Please also visit my Facebook page or Twitter account to learn which organizations have been identified as the beneficiaries of this ongoing fundraising campaign.
If you would like to recommend any additional organizations that would benefit from an author-proceeds fundraising campaign, or awareness-building social media posts, please send information to me through my Contact Page.
Below, please read about how Dr. Vivek has taken unprecedented steps by sending an official Surgeon General's warning to all doctors about opioids, which he calls 'the health crisis of our generation'.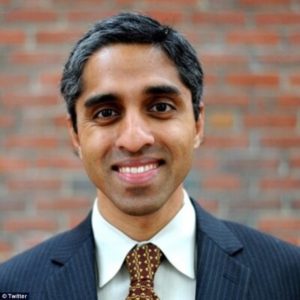 I have included below a copy of the personal letter I received. I look forward to assisting the Surgeon General in his mission to destigmatize the disease of addiction!  Remember - "It Takes a Village" and "A Thousand Points of Light".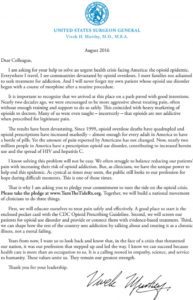 I welcome your comments, questions and insights by either clicking "Leave a Reply" below, or by answering any of my Polls about the Heroin Epidemic!