Last month, I had the honor of serving as a keynote speaker at the New Hampshire Citizens Heath Initiative Annual Symposium, which was hosted by the University of New Hampshire's Institute for Health Policy and Practice. During my presentation, I spoke about the pervasiveness of the opioid/heroin epidemic, my reasons for writing Addiction on Trial and special considerations that must be given to adolescents. I concluded my address with a call to action, touching upon approaches and strategies that would help to destigmatize this rampant disease and save countless lives.
As I spoke, Kate Crary, Educational Coordinator at the University of New Hampshire (and an extremely talented illustrator) took graphic notes on the main points of the address. Kate's infographic is a fabulous visual representation of the complexity of the opioid/heroin epidemic, the disease of addiction and the work that I, along with many others, are doing to spread awareness about the problem. Kate's work is too impressive not to share with you all, and I thought it would be beneficial to frame this blog post around it.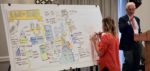 My keynote address was titled The Heroin/Opioid Epidemic: A Call to Arms. Opioid and heroin addiction is a far-reaching, equal opportunity disease that reaches across socioeconomic and geographic boundaries; and this contagion is spreading in a manner unlike any other I have witnessed in my 35 year career in Addiction and Emergency Medicine.  The opioid epidemic touches all of us in one way or another, costs society hundreds of billions of dollars each year and will "take a village" and a "thousand points of light" to stop it.  We must accelerate our pace of action.  Today, the number of yearly opioid-related deaths has surpassed that of gun violence and car accidents. The annual death rate from drug overdoses now exceeds the total number of Americans who died in the Vietnam and Iraq wars combined; and more than 80% of the drug overdose deaths are related to opioids, including fentanyl, heroin and prescription medications. The time to act is now and we must insist that our local, state and federal politicians and public officials treat this for what it is - a life and death priority.
Although I commend President Trump for finally addressing this issue, using words such as "shameful" or not increasing funding in any meaningful manner misses the mark.  It is a Public Health Emergency, but let's not stop there – it is a National Emergency; drug overdoses are responsible for175 deaths every day! It is not enough to just talk the talk; it is time for our public officials to really walk the walk!