I commend Martha Bebinger and NPR for bringing forward the latest information re: implantable buprenorphine to treat patients who are opioid dependent/addicted.  The implant system has four controlled release buprenorphine rods that are placed under the skin and the effect can last up to six months. The FDA is expected to make a decision about this treatment approach within a few days.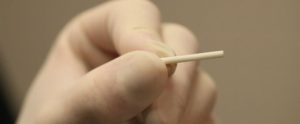 However, just as there is no one antibiotic to treat all bacterial pneumonias, or one way to treat every person who has diabetes or depression, there also needs to be multiple approaches to treat addictive illnesses.  What commonly gets overlooked is the underlying hallmark triad of addiction with its biological, psychological and sociological components.  Medication may be an essential aspect of treatment for some, but addressing the behavioral/psycho-social aspects through counseling cannot be ignored or minimized. In fact, it is through the behavioral treatment approach that patients better understand the nature of the issues and cues that contribute to drug seeking patterns.
When treating a patient with oral buprenorphine (Suboxone), the patient receives a maximum of a thirty day prescription. In between the monthly medical visits and sometimes concurrently with the doctor visits, the patient may engage in group and/or individual counseling sessions.  So just as we as a society want quick fixes for many things, we need also to be careful how we look at new treatments.  The issue of wanting our pain totally relieved has contributed to the over prescribing of pain medication.  Immediate gratification is always enticing, but not necessarily the best approach.  Surely, implantable buprenorphine has great promise, especially if it is reasonably priced.  While some patients may need the daily structure provided at a methadone treatment center or be better served by methadone if their tolerance is exceptionally high; other patients may be better served by a prescription for oral buprenorphine and monthly or weekly medical visits; and yet others may be better served by implantable buprenorphine; but all patients will be best served by incorporating a structured behavioral component into the treatment plan.
Implantable buprenorphine is not a cure-all for opioid addiction but it will be a welcome addition for physicians to have at their disposal.