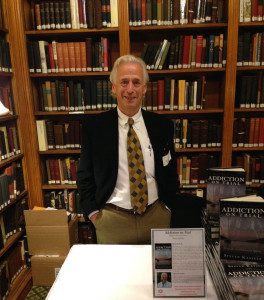 Since my last blog when I boldly challenged whether a Murder Mystery can be Literary Fiction, I have been humbled by two more speaking invitations. I believe this further reinforces the premise that the term Literary Fiction is more expansive than commonly espoused.  Should a Medical Thriller's Educational Value be judged solely upon a narrow definition or on the message it imparts?  Let's remember that the term Literary Fiction is commonly used in the book-selling business to connote "serious fiction" with arbitrarily applied criteria such as having different types of book covers, titles or types of book formatting. Wow! How about determining literary merit based on messages of social commentary, political criticism, or exploring some part of the human condition.  Why can't a novel entertain and excite while carrying a serious message?
I have been invited to use my book as a foundation to explore the educational value of using Fiction with a Message to expand the views of graduate students studying Communication and students in the School of Public Health.  Over the next several months I will have the honor and privilege to make presentations at the following academic institutions:
University of Massachusetts School of Public Health & Health Sciences, Amherst, MA:  "Addiction as a Disease Model" -  Presentation/Discussion,  December 7, 2015 
Philadelphia College of Osteopathic Medicine, Georgia Campus, Suwanee, GA: "Destigmatizing Addiction" - Presentation/Discussion; December 10, 2015
 University of Amsterdam,  Graduate School of Communication, Amsterdam, NL,   "The Use of Fiction as a Vehicle to Communicate & Educate" - Presentation& Discussion;  March, 2016 (date TBD)
As exciting as all this sounds, it is no more important than continuing to use Addiction on Trial  to emphasize the devastating heroin/opioid epidemic still gripping our country. There need not be limits to a Medical Thriller's Educational Value.  I welcome invitations to participate in book clubs gatherings (large and small) to discuss the characters, the messaging, the struggles of addiction and the duplicitous approach of society's response.  A recent article is a must read: In Heroin Crisis, White Families Seek Gentler War on Drugs.
Thank you to all my followers who continue to give me inspiration to speak and to write!